The Best Bitcoin and altcoins Exchanges to Trade & Buy Bitcoin Cryptocurrency 2018 list, Cryptocurrency Exchanges by safety, regulation, fee, payments & trust.
When it comes to finding the best bitcoin exchange things are not all that easy. Many of the best bitcoin exchanges to buy bitcoin are only recently online. This means that they have had little time to get the word out about their services and products. Most people coming to this page will be asking how to buy bitcoin online through a secure means. Well, here is a good starting point.
First thing to consider when looking for the best bitcoin exchange is how safe are the website and server. A trustworthy bitcoin exchange providing transparent data about coins in cold storage (more on this later). It is also a good to look for available currency pairs: example looking to trade bitcoin for USD, Euros, or other fiat currencies. The location usually gives an idea of what is on offer. However, the largest bitcoin exchanges usually have many options for buying bitcoin with government issued currency and altcoins.
What is a cryptocurrency exchange?
A platform which allows buying and selling of cryptocurrency in exchange for another cryptocurrency or a fiat currency, i.e. currencies such as the dollar, pound, euro, etc. which governments declare as legal tender, is called a cryptocurrency exchange.
Centralized vs. Decentralized Exchanges
If you're researching peer-to-peer exchanges, you'll also come across the concept of decentralized crypto exchanges. Many (but not all) peer-to-peer exchanges can also be as decentralized. Decentralized exchanges (DEXs) are hosted on a network of distributed nodes and allow you to trade cryptocurrency directly with other users. The absence of centralization means there's no single point of failure for hackers to target, and server downtime is no longer an issue. And because trades are executed using smart contracts, you can trade straight from your wallet. This ensures that you don't have to transfer any of your coins and tokens onto an exchange, allowing you to retain control of your cryptocurrency at all times.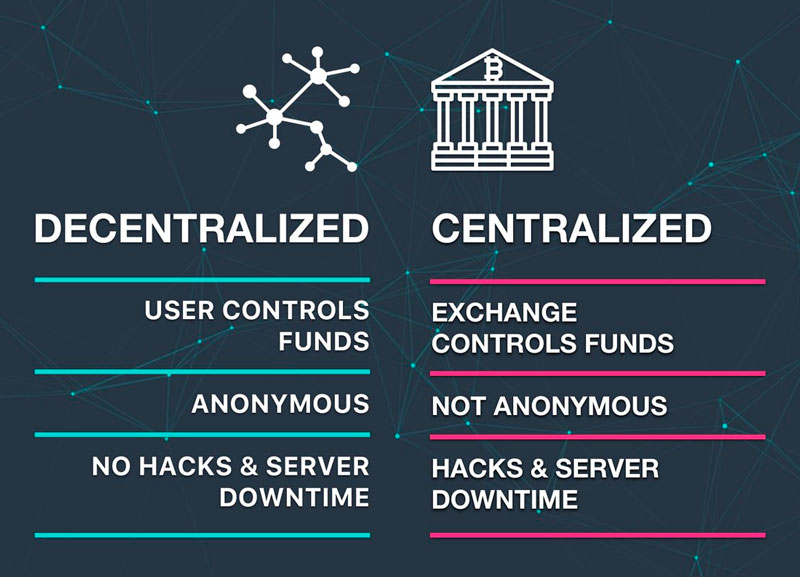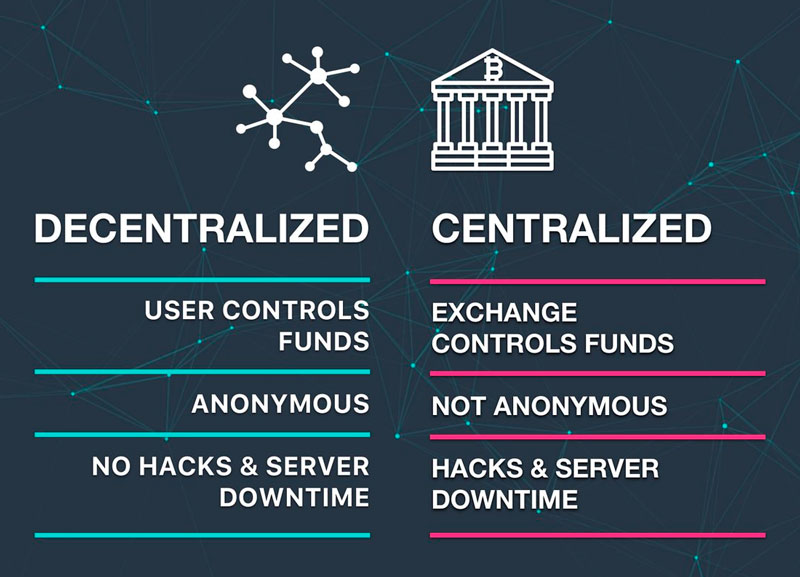 Cryptocurrency exchange fees
Before you buy or sell cryptocurrency on any exchange, you'll need to be fully aware of any fees that apply. Fees vary between platforms and may include:
Deposit fees. Many exchanges don't charge any fees when you deposit funds into your account, but some do. These fees can vary depending on the payment method you choose and the currency you transfer.
Trading fees. Trading fees are typically calculated as a fixed percentage of each transaction amount. Some exchanges charge a flat fee for all transactions, but other platforms offer different fees for market makers — those who add liquidity to the market by placing limit orders — and market takers — those who place market orders that are executed immediately, thereby removing liquidity from the market.
Withdrawal fees. When you want to withdraw funds from your exchange wallet, you'll need to be aware of the fees associated with your transfer. Crypto withdrawals attract a flat fee, for example 0.001 ETH, while fiat currency withdrawals could attract either a flat fee or occasionally a percentage-based fee. Once again, these fees vary based on the currency being transferred and, if you're withdrawing in fiat currency, the payment method selected.
Types of cryptocurrency exchanges
One way of classifying the exchange is based on the tradable currency. On this basis, an exchange can be a fiat exchange or a crypto-to-crypto exchange. 
Fiat exchange: This allows the exchange of government-backed currencies with the cryptocurrencies.
Crypto-to-crypto exchange: In these exchanges, cryptocurrencies can be exchanged for each other. The widely traded crypto pair is Bitcoin vs. Ethereum.
Cryptocurrency exchanges are also classified as:
Traditional cryptocurrency exchanges: These operate like traditional exchanges, where buyers and sellers trade in cryptos based on the prevailing market price. Here, the role of the exchange is like that of a middleman facilitating the transaction.
Cryptocurrency brokers: Just like currency changes, these brokers facilitate buying and selling by customers at prices determined by them, which usually is the current market price, plus a small premium.
Direct trading platforms: These platforms facilitate peer-to-peer trading between buyers and sellers, without an exchange that acts as an intermediary.
Global Digital Asset Exchange, or GDAX, an arm of Coinbase, launched as a professional trading platform in 2015, is an example of a direct trading platform. GDAX is now switching over to the name Coinbase Pro, with Coinbase promoting the platform as one offering "professional trading tools and services, delivered through a completely re-engineered UI."
Trading platforms
Best for: Buying and selling a wide range of currencies; lower fees.
The downsides: Intimidating for new users and it may not be possible to directly exchange the currencies you want.
Cryptocurrency trading platforms are the most widely used platforms for buying and selling digital currency. They connect crypto buyers with crypto sellers and take a fee for facilitating each transaction. You can use these platforms to exchange crypto at the current market rate or at a specified limit, while some sites also offer more advanced features like stop-loss orders. Crypto trading platforms tend to provide access to a more diverse range of currencies than brokers, and often feature charting tools to help you plan your trades. These platforms also tend to offer lower fees and better exchange rates when compared to brokers.
However, it's not possible to directly exchange one crypto for any other digital currency you want — you're limited to the trading pairs supported by your chosen platform. Bitcoin and Ether are the most commonly traded currencies and feature in pairs alongside a wide range of altcoins. Crypto trading platforms can also be intimidating and confusing for new users.
Examples of high-volume cryptocurrency trading platforms include Binance and Bittrex.
Peer-to-peer exchanges
Best for: Anonymity, giving you more control over how you trade.
The downsides: Prices usually higher than market rates; a certain level of risk involved.
These platforms allow direct peer-to-peer trading between people all around the world. The exchange acts as the middleman, with the seller able to set their own price and accepted payment methods. The main advantage of peer-to-peer exchanges is that they let you quickly and anonymously buy or sell coins with almost any kind of trade or payment method you want. The downside is that you'll often pay above market prices, and it can also be riskier than other options. To help offset the risks, some platforms build in escrow features and reputation systems to identify reliable and legitimate buyers and sellers.
Examples of peer-to-peer exchanges include LocalBitcoins and Paxful.
Brokers
Best for: Crypto novices, those looking for a quick and easy way to buy cryptocurrency.
The downsides: Costs more than other options; may not offer as wide a selection of cryptocurrencies.
Cryptocurrency brokers often offer the simplest and most convenient way to buy cryptocurrency. Buying bitcoin or any altcoin from a broker is essentially like purchasing from a cryptocurrency shop — the broker buys digital coins or tokens at wholesale rates, adds their own margin on top and then sells the currency on to you. Brokers offer a quick and straightforward entry into the world of cryptocurrency. Their platforms are designed to be easy to use and you can pay for your crypto purchase with your everyday fiat currency, often even by using a credit or debit card. The main downside of using a broker is the cost, as you'll not only need to buy your crypto at a price above the market rate but also pay transaction fees.
Examples of some well-known cryptocurrency brokers include Coinbase and CoinSpot.
Quick look – best cryptocurrency exchanges
If you want to capitalize on cryptocurrencies, you might want to acquaint yourself with an institution called cryptocurrency exchange, which facilitates trading in the currency.
Best overall: Binance, Coinbase
Best for the number of coins: Bittrex, Changelly
Best for the number of countries supported: Kraken, Bittrex, Coinmama
Best for commissions and fees: Coinbase, Binance
Best for services offered: Coinbase
Best for technology: Coinbase, Bitfinex
What to Consider When Picking the Best Cryptocurrency Exchanges
Here are a few things you will want to consider before picking the best cryptocurrency exchange suited for your trading and speculative needs.
Fees – Almost all exchanges charge fees for you to do business on their platforms. Make sure that when you are signing up or committing yourself to a specific exchange that you know everything about its fees.
Verification Requirements and Security – These are vital to understand before starting out on an exchange. Most exchanges require some sort of identity verification in the form of a passport, driver's license, proof of residence, or other similar document before joining. The more complex the verification process, the safer the exchange platform.
Exchange Rates – Exchange rates are also important, as you don't want to join a cryptocurrency exchange that charges draconian fees for transactions and exchanges. That just wouldn't be fair to you or financially savvy.
Reputation – The best cryptocurrency exchanges always have ups and downs. However, the general opinion of the top ones is positive. The best exchanges have a solid reputation and are well trusted by traders.
Region – It's also important to find an exchange that supports your geographic region. Some exchanges may support all of the countries in South America, while not supporting any of the countries in Asia, and vice versa. If you are living in Russia, for example, make sure you pick the best exchange platform that supports your region.
Top 15 Cryptocurrency Exchange 2019
Since exchanged cryptocurrency requires liquidity or a certain amount of a particular currency to be able to offer it, it is advisable to ensure that the exchange you choose has enough money in which you want to negotiate.
An example being, if you are going to trade cryptocurrency, you need to ensure that your exchange has an acceptable amount of work 24 hours a day. Similarly, if you plan to buy and retain your property, you should not keep them in your trading portfolio.
Last but not least, you need to provide an independent research of the exchange you want to use. Everything is fine and it is good to look at the website of the fair, but you have to dig a little bit further.
Look for user tips, reviews, and independent reviews of services, benefits, and disadvantages. This will help you complete your decision.
There are many exchange on the market, and what's "best" really depends on what you are looking for. That said, we've put together a list of some of the best SUVs and we have some advantages and disadvantages that will help you improve your search:
Binance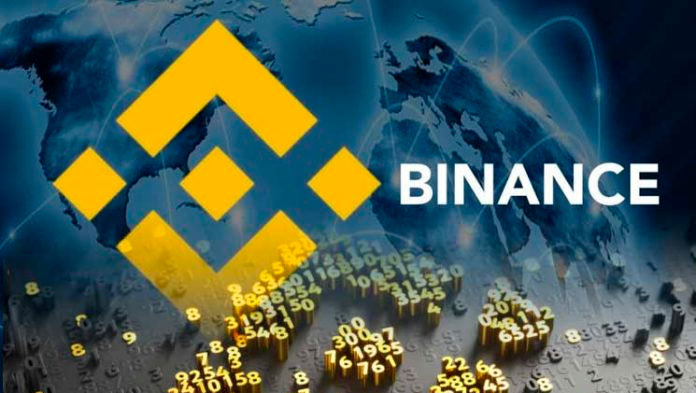 Binance exchange now needs no introduction as it has been ruling the crypto market for months.
This exchange is good for beginners and advanced users alike. They also have an inbuilt option in their UI to switch between the two modes, a feature that makes their UI very user-friendly.
Also, you will never face a liquidity issue while using Binance because it constantly ranks in top 5 exchanges on CMC by volume.
In addition to that, if you use their native BNB tokens while trading you can have a discount of up to 50% in your trading fees, which is a big amount if you're looking to become a full-time crypto trader. The sooner you start via BNB, the more you will save in the longer run. (Buy BNB tokens now)
And the coolest thing that I found was that they have the most advanced and easy to use mobile apps for trading cryptocurrencies on Android as well as iOS.(Android App | Download iOS App)
Fees: 0.1% (claim up to 50% discount)
Accessible Globally
Coinbase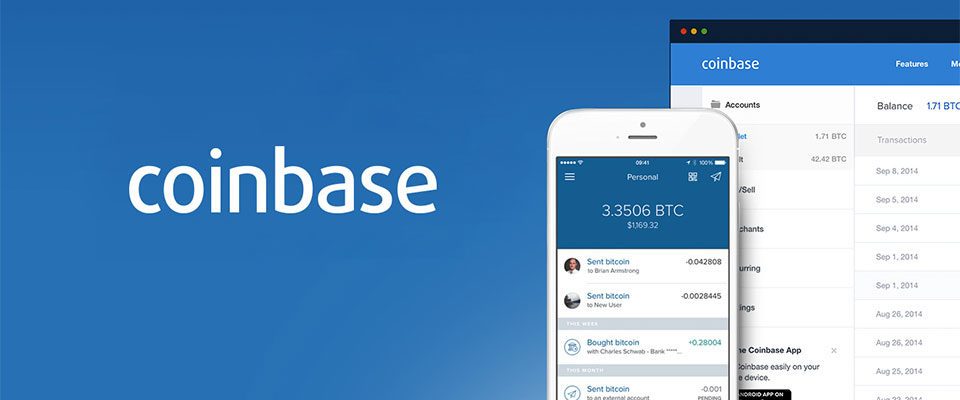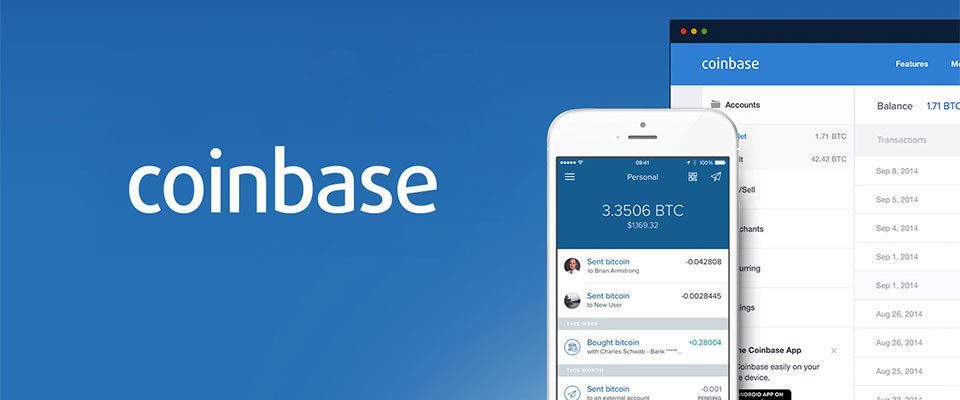 Headquartered in San Francisco, California, Coinbase is considered by many to be the most beginner friendly exchange. It accomplishes this through its beautiful yet simple user interface.
Instead of buying Bitcoin and other cryptocurrencies from other users, you are buying directly from Coinbase. Technically, this makes Coinbase is a brokerage. Coinbase has recently rebranded GDAX (Global Digital Asset Exchange) to Coinbase Pro. This rebranding has come up with an updated user interface, and new features.
Coinbase charges 1.49% fees on bank purchases and 3.99% fees on credit and debit purchases. These fees are on the lower end compared to other brokerages. It's recommended to use your bank account when making large purchases. Coinbase allows its users to make recurring purchases when investing in various cryptocurrencies.
The exchange has recently expressed interest in adding several other cryptocurrencies, such as 0x, Stellar Lumens, Cardano and more. Coinbase's lack of alternative currencies have hurt them in the past but it's possible to start seeing more variety soon.
If you sign up to Coinbase using one of the links, you will receive $10 in FREE Bitcoin on your first $100 order.
You should use Coinbase if:
You are a beginner cryptocurrency investor
You like low fees
You plan on paying via credit card, debit card, bank transfer, or bank wire.
Your country is supported by Coinbase (United States, Europe, Singapore, Australia)
KuCoin


KuCoin is a brilliant crypto exchange that has been receiving a lot of traction over the last 6 months. The traction comes as no surprise given the team behind it and an easy to use & navigate UI.
In terms of volume too, it ranks in top 25 exchanges on CMC and has a programme in which they keep adding new coins/tokens on their exchange regularly.
Also, from a beginners point of view, KuCoin's native token i.e. KuCoin Shares is good to HODL because that gives you extra smart passive income in the form of exchange fee.
One unique thing that many newbies miss i.e. KuCoin is one of the few exchanges that pays you NeoGAS for holding NEO on it.
Fees: 0.1%
Accessible Globally
Bitstamp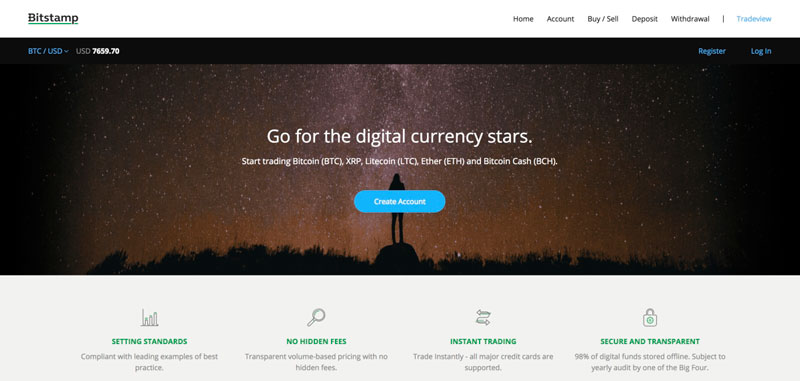 Bitstamp are big in Europe and, since 2011, have moved from Slovenia, and the United Kingdom in search of sound regulatory environments. Good volumes are available for larger trades. Well received by people using SEPA and credit cards. Both euro and US dollar deposits are accepted. I like Bitstamp because they really focus on being a pure bitcoin-only exchange (update: since 2017 Bitstamp have started adding popular cryptocoins). Please read my Bitstamp critique for analysis of factors such as security, fees, and the history.
Pros
Card purchases available (visa mastercard and visa) in Europe and the USA.
HQ Located in Luxembourg
Good for large transactions yet easy to use for beginners
Cons
Not available outside of EU and the USA
Kraken


Kraken Location – San Francisco, United States
Founded 2011
Polarizing cryptocurrency exchange
Complicated user interface (not recommended for beginners)
Low fees
Secure across the board
Only 17 cryptocurrency coins available (as of writing)
Unlike the other US-based cryptocurrency exchange platforms, Kraken's biggest problem isn't that it's located in the USA. Kraken biggest problem is its customer support – they are all over the shot.
Easily the most polarizing of the best cryptocurrency exchange platforms, depending whom you talk to, Kraken is either the best platform for trading cryptocurrency or the worst experience one can ever have. Complaints range, but typically revolve around their lackluster customer service.
Having said that, Kraken is one of the early adaptors in cryptocurrency exchange, and regardless of it's back-and-forth reviews, it has solidified itself as a premiere cryptocurrency exchange platform. Personally, I don't use Kraken any more.
Bittrex


Bittrex Location – Seattle, United States
Launched in 2014
One of the most reputable and popular cryptocurrency exchange platforms
Reputable for safety
Bittrex fees are a clean and transparent .25% fee per trade
Huge list of coins
Truth be told, were it open to new members, Bittrex could be my number one recommendation. It's probably the largest, and most respected name in cryptocurrency, and has done a great job ensuring it provides one of the best cryptocurrency exchange platforms online.
There have been reviews about the site being slow, as well as fairly negative reviews concerning the Bittrex app (available on both iOS and Android)…. but aside from that, Bittrex reviews have been fairly stellar.
I find the charts are not as easy to read on Bittrex as Binance but besides that, I have no complaints.
Gemini

Gemini is a fully registered, New York-based exchange that holds the status as being a NY state limited liability Trust. Its USP is its auctions, which are held twice a day and function pretty much like the auctions on major stock exchanges. Gemini operates in a similar space to Coinbase as it allows users to withdraw and deposit directly to and from their bank accounts. Although it serves a relatively small number of countries, the trust gives investors a bit more confidence compared to other entities in the cryptocurrency space. For a more in depth catch look at Gemini's exchange, read my review.
Pros
Auctions available
Increased security features
Fiat deposits & withdrawals
Large volume exchange
Easy to use for beginners and experts
Cons
Only accepts USD transfers
No phone support
Limited cryptocurrencies (BTC & ETH)
HitBTC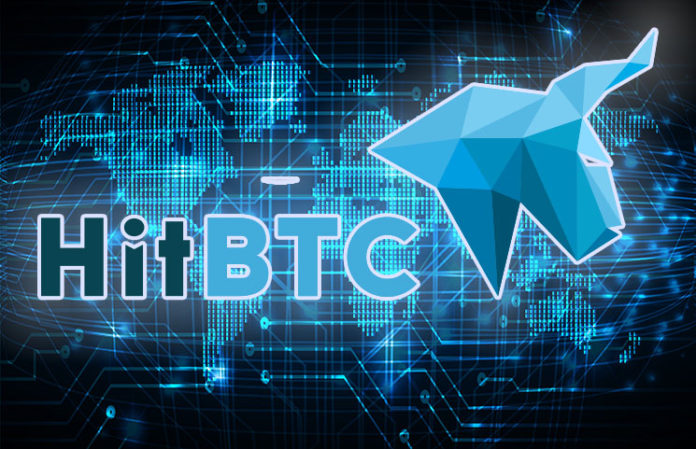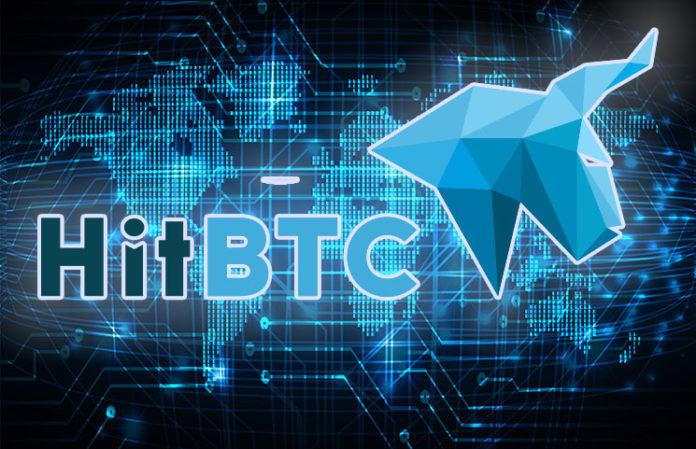 HitBTC, judging by the bitcoin trading volume, HitBTC is one of the most popular bitcoin exchanges that offers a broad spectrum of altcoins. Although it is a well-established exchange, they do not provide information about the country they are based in. Nor did they provide sufficient details about the hacking incident that occurred early in 2016 and affected their clients' accounts. HitBTC only offers banking services to major market makers and institutional investors; they are not registered as a payment provider. Nevertheless, the exchange provides trading of 150+ different coins while traders who provide liquidity by placing their own asks and bids are paid a highly competitive 0.01% rebate. For more in depth analysis, read our review.
Pros
high trading volume
Good trading platform
Supports a wide range of altcoins
Competitive commission structure
Cons
Strict verification process, thus timely
High fees
Do not accept fiat currency transfers
Little company information
Hacked in 2016
Coinmama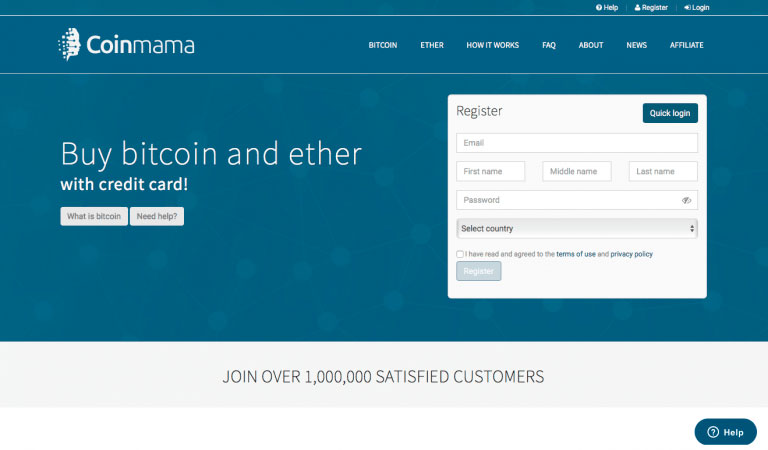 Located in Israel
Founded in 2013
Secure
Can purchase cryptocurrency with credit card
Need verification to purchase more than $150
Only Bitcoin and Etheruem
Available in a shit ton of countries (but limited in the USA)
3.99% service charge
While 95% of people won't use Coinmama as a cryptocurrency trading service, it technically can trade cryptocurrencies, as Coinmama works with both Ether and Bitcoin.
But having said that, Coinmama mostly exists to help people purchase Bitcoin or Ethereum with a debit or credit card.
If you are looking for a good place purchase Bitcoin, this is highly recommended (but due to high demand, new transactions are currently lagging).
Poloniex

Location – USA
Only deal with cryptocurrency
Use Tether instead (USDT)
World's largest cryptocurrency exchange
Lots of coincs
Margin lending/User lending (fluctuating rates)
Poloniex is the exchange I first started on and I've been using it for over a year. The main problem with Poloniex is that the support is fucking terrible – it can take weeks to get a response. Another frustrating part about dealing with Poloniex is the exchanges desire to seem to want to pay taxes. Cryptocurrency trading exchanges like Poloniex and Bittrex are dealing with compliance tax issues by the US government.
These additional regulations and yellow tape are forcing US residents to trade on cryptocurrency exchange platforms that are not based in the USA (mostly China or Korea).
For this reason, I say keep it easy. Skip on anything-US based, and stick to Binance.
Bitmex

Bitmex is the leading bitcoin margin trading site. Users can trade cryptocurrency derivatives with up to 100x leverage. Pairs include BTC/USD, Yen, Monero, Ripple, Dash, and Ethereum. Bitmex CEO Arthur Hayes has used his experience as an equity derivatives trader for Deutsche Bank to design, build, and maintain exactly the type of platform that users are looking for. Granted that this platform is for experienced and seasoned traders. Beginners should avoid trading coins here without knowing the implied volatility risks.
Pros
Leading platform for bitcoin derivatives and margin trading
Relatively functional user experience thanks to crafty designing
Up to 100x leverage
Cons
With such high leverage it's easy to overlook implied risk factor
Changelly


From the team that created MinerGate.
Supports lots of cryptocurrencies
Competitive in terms of fees
Relative newcomer on the scene
Changelly is a cryptocurrency exchange with support for many more virtual currencies than most, including Monero, Dash, Bytecoin, and DigitalNote among others. If you are mining a less popular currency, chances are that Changelly can exchange it for you.
This exchange comes from the popular mining platform MinerGate which provides a merged mining pool across Windows, Mac, Linux and Android operating systems. While Changelly focuses on exchanges between different cryptocurrencies, users can also purchase cryptocurrency with US Dollars or Euros.
Note that this exchange has a shorter track record, as it only entered the market in 2016. Exchange fees are 0.5% on transactions.
Bitpanda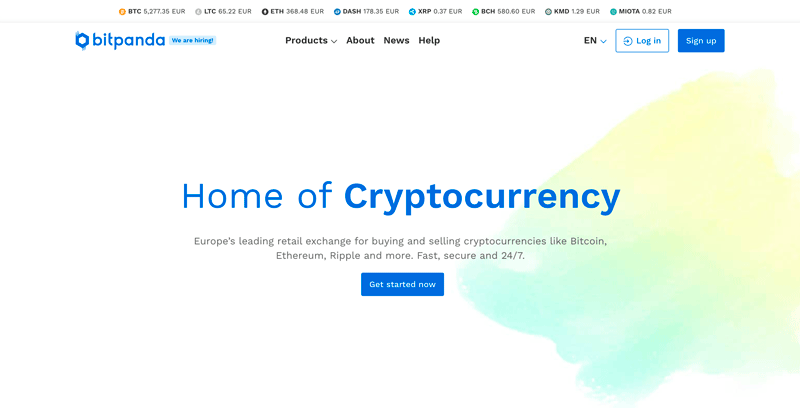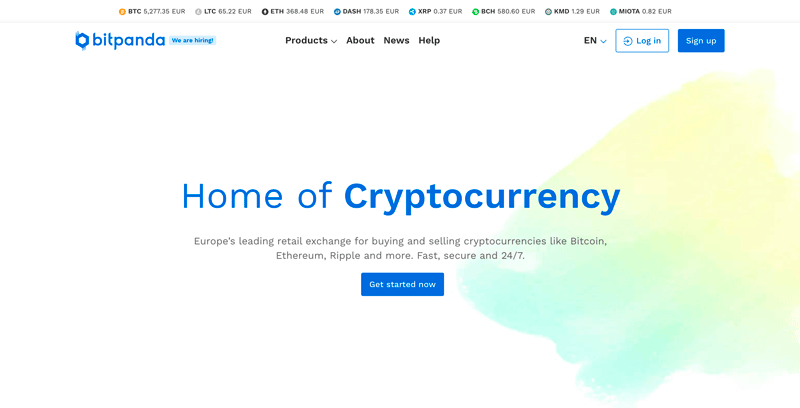 Bitpanda, called by some as the Coinbase of Europe, is a popular exchange that sells Bitcoin, BCash, Dash, Ethereum, Litecoin, IOTA, Komodo, Ripple, and more for US Dollars, Euros, British Pounds, and Swiss Francs.
The exchange has several payment methods such as bank transfers, credit cards, debit cards, Skrill, Neteller and more. Bitpanda has 3.98% fees on credit and debit card purchases.
Recently, Bitpanda has made it so it's users do not pay any transaction or blockchain fees for sending cryptocurrency between accounts on the exchange, making it convenient for sending lower amounts of cryptocurrency.
Bitpanda has a very simple user interface, making it easy for beginners to successfully invest in cryptocurrency.
You should use Bitpanda if:
Your payment method is supported (card, bank, Skrill, Neteller, etc)
You want to purchase a wide variety of altcoins
Your country is not supported by Coinbase
Cryptopia


An exchange that supports literally hundreds of cryptocurrencies
Supports a huge number of virtual currencies
Low trading fee
Sprawling and rather unwieldy website
Cryptopia was founded in 2014, aiming to be a comprehensive exchange that focuses on the user experience, with integration of additional services including a marketplace and wallet. It is based in Christchurch, New Zealand. Cryptopia is notable in that the first level of verification happens very quickly, and only requires an email address for initial verification.
While Cryptopia does not support fiat money trading, it does support a ridiculously large number of cryptocurrencies: over 400 to date, with more being added all the time. The trading fee is also a low 0.20% per transaction, which compares favorably with many competitors. The website is quite large and sprawling, meaning that new users might find their first experiences with the site a little daunting.
eToro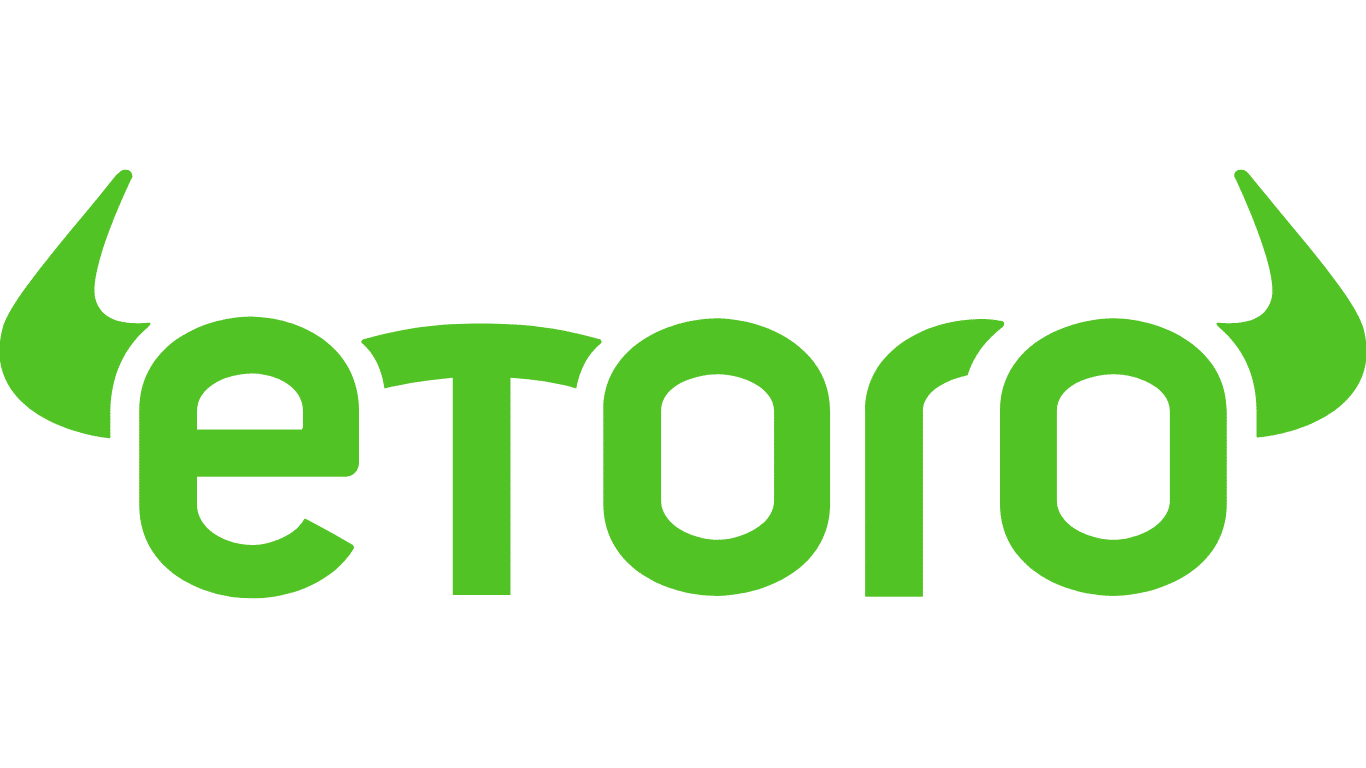 eToro was one of the first CFD providers to offer cryptocurrencies on their platform. With an extremely easy to use interface, it is a huge attraction for beginners who are looking to invest in crypto for the first time. Buying crypto as a CFD is different to buying and owning the actual cryptocurrency, but does it really matter? We take a look at eToro in more detail.
Pros
Increased liquidity allows for easier entries and exits, decreasing the likelyhood of slippage
FCA & CySEC regulated provides increased security
Leverage means you do not need to put the full position down. Although caution is advised when using leverage
Cons
Currently only offers 7 cryptocurrencies
You don't own the underlying asset
How to buy cryptocurrency in the US
So how do cryptocurrency exchanges work? And how exactly can you buy and sell crypto on an exchange? Read on for step-by-step instructions on what you need to do.
Buying cryptocurrency with fiat currency
For the sake of our example, let's assume that you have $500 that you want to use to buy bitcoin.
Compare cryptocurrency brokers to find one that offers the right service for you.
Register for an account on the platform, including providing any personal details and proof of ID.
Navigate your way to the "Buy" screen.
Select bitcoin as the cryptocurrency you want to buy.
Select your payment currency, which in this case is USD, and specify the amount you want to spend as $500.
Select your payment method, such as a credit card payment or bank transfer.
Enter your payment details, such as your account number and routing number if sending a bank transfer or your card number and CVV if paying by credit card.
Review the full details of your transaction, including fees and the amount of BTC you're purchasing.
If you're happy to proceed, click Buy BTC.
Once the transaction is processed, the BTC is deposited into your exchange wallet. However, some brokers automatically send your purchased BTC to an external wallet address you choose.
Buying cryptocurrency with another digital currency
In this scenario, let's assume that you have 1 BTC that you want to exchange for ETH. Here's what you need to do if placing a trade on a centralized crypto exchange:
Compare cryptocurrency trading platforms to find one that offers the right service for you.
Register for an account on the platform, including providing any personal details and proof of ID.
Log into your account and find the BTC wallet address for your account.
Use this address to transfer the 1 BTC you want to trade from an external wallet.
Navigate to the "Exchange" or "Trading" page.
Search for the currency pair you want to trade, which in this case is BTC to ETH.
In the "Buy" field, choose the type of order you want to place, such as a market order or limit order.
Enter the details of your transaction, such as the amount of BTC you want to spend. If placing a limit order, you'll need to specify your desired ETH price.
Take a moment to review your transaction, including checking the exchange rate and fees that apply.
Click Buy ETH.
Once the transaction is processed, the ETH you purchased is deposited into your exchange wallet.
However, if you're using a decentralized crypto exchange, the process is a little different. You'll typically required to link your wallet to your account, but you'll then you can trade directly from wallet to wallet, with no requirement to deposit any funds on the exchange.
Selling cryptocurrency and withdrawing your funds
If you want to sell cryptocurrency on an exchange — let's say bitcoin — you'll need to follow these steps:
Log into your account and find the BTC wallet address.
Use this address to transfer the BTC you want to trade from an external wallet.
Navigate to the "Exchange" or "Trading" page.
Search for the currency pair you want to trade, for example BTC to AUD or BTC to ETH.
In the "Sell" field, enter the details of your transaction. Depending on the platform you're using, you may be able to sell at market rate or potentially place a limit order.
Take a moment to review your transaction, including checking the exchange rate and fees that apply.
Click Sell BTC.
Once the transaction is processed, the currency you purchased is deposited into your exchange wallet.
It's now time to withdraw those funds from your exchange account, but the exact process depends on whether you've purchased crypto or fiat currency:
If you've purchased fiat currency, look for the "Withdraw USD" option from your account dashboard. Select your desired payment method, for example bank transfer or PayPal transaction, and enter all the necessary account details so your payment is processed.
If you've purchased another cryptocurrency, you'll need to first set up a secure wallet where you can store your coins. Copy the address of this wallet, log into your exchange account and select the currency you want to transfer. Remember to double check that you're sending the funds to the correct wallet before submitting the transaction.
How to avoid a crypto exchange scam
While regulators are gradually implementing laws and guidelines to help protect consumers against fraud, there are still plenty of dodgy exchange operators out there. Falling victim to theft is a major concern for any crypto buyer. So what can you do to protect yourself against scam crypto exchanges? There are several simple steps you can take:
Check whether the exchange is registered with SEC . Cryptocurrency exchange operators in the US must be registers with the US Securities and Exchange Commission.
Is it regulated? If you're considering an overseas exchange, find out where exactly it is headquartered and if it imposes regulatory requirements for digital currency exchanges in that particular country. Does the exchange comply with all relevant laws?
Do your research. Don't get sucked in by marketing gimmicks or the promise of a deal that sounds too good to be true. Take your time to research a platform's credentials before opening an account and especially before depositing any funds.
Recognize the warning signs. Recognize the red flags that indicate an exchange is not entirely legit. For example, if there's no information about the company behind the exchange or where it is headquartered, proceed with caution. Similarly, if other users report lengthy withdrawal delays or claim the exchange engages in questionable activities, you may be better off steering clear of that platform.
Check the address. Whenever you visit an exchange site, check that its address begins with "httpss" rather than just "https". This means that all communications between your browser and the exchange are secure and encrypted.
Only use established exchanges. Let other people take the risk of trading on new and untested exchanges. You'll sleep a lot better at night if you know you're dealing with an established platform with a good reputation.
Conclusion
Picking the ideal cryptocurrency exchange platform for your specific needs may be a difficult and time-consuming process. Remember to pay attention to the fees, reputation, security, verification processes, and geographical services an exchange platform has to offer. Remember that you are not limited to using only one cryptocurrency exchange. Hopefully, the information provided will assist you in deciding which exchange platform to use.
We have selected 15 Cryptocurrency exchanges here which are trustworthy and easy to use for beginners to get started building their investment portfolios.
Frequently Asked Questions
How Do I Deposit Into an Exchange?
Depending on what type of exchange you are trying to deposit into, this will differ. If the exchange is a fiat exchange, you must link a payment method such as a bank account, credit card, or debit card.
If it's a crypto to crypto exchange, you will find a tab or page on the exchange titled wallets, deposits or something of the sort. Click that, and from there you will see a deposit address for every cryptocurrency available on the exchange.
How Do I Withdrawl from an Exchange?
Similarly to deposits, this will vary depending on the type of exchange. Most fiat exchanges allow users to withdraw sold cryptocurrency back into their bank accounts. It is somewhat rare to find an exchange that allows withdrawals to a credit or debit card.
For crypto to crypto exchanges, you can most likely withdrawal from the wallet tab mentioned earlier. You will need to provide another wallets deposit address in order to send the transaction.
Lastly, some exchanges will have limits on withdrawals, that can be improved by verifying your identity.