Bitcoin is a decentralized digital currency that can be bought, sold, or traded like a commodity. It can also be used to buy goods — pizza, cars, beer, whatever you'd like.
Bitcoin is different from U.S. dollars because it uses peer-to-peer technology to operate. That means there is no central authority — in this example, the U.S. Treasury — to issue new money or track transactions. Those functions are built into Bitcoin itself — specifically, the so-called blockchain technology that powers Bitcoin and other cryptocurrencies — which is one reason it's such an attractive, and controversial, concept.
What is the blockchain, you ask? Think of it like a digital version of a public ledger, in which all transactions are recorded for everyone to see. It serves as the primary mechanism for trust in this financial system.
So you've learned the basics about bitcoin, you're excited about the potential and now you want to buy some. But how?
Bitcoin can be bought on exchanges, or directly from other people via marketplaces.
You can pay for them in a variety of ways, ranging from hard cash to credit and debit cards to wire transfers, or even with other cryptocurrencies, depending on who you are buying them from and where you live.
How Is Bitcoin Generated and how many BTC?
Bitcoins are created or generated by the network as a reward for the "mining" process, a computational effort in which blockchain — that is, public ledger — transactions are verified.
The details of this democratic process are complicated. It involves mathematical problems of varying difficulty, software to solve them, and a schedule that ensures that solutions are discovered on a highly regulated basis. All you need to know is that every time a mathematical solution is found, a new "block" on the chain is created. Blocks cannot be removed or altered once they've been accepted by the network.
The Bitcoin system allows six blocks to be mined every hour. Because it gets more difficult over time, the system is expected to generate fewer Bitcoins over time. (It is structured such that, for every four years the network is in operation, half the amount of Bitcoins that were created in the previous four years are generated.) The bitcoin supply is capped at just under 21 million coins. More than 17.4 million coins have been mined as of Dec. 05, 2018.
Should you buy Bitcoin?
Firstly, you don't need to buy a full Bitcoin. That would be preeetty expensive now! A Bitcoin can be divided all the way down to a one hundred millionth. You can buy as little as £5 if you wish.
If you can't spare £5 or are in debt please don't buy Bitcoin as you could lose money.
There are 3 types of people buying Bitcoin:
Speculators – the value has risen massively, but it's still very volatile making Bitcoin a risky investment
Actual users – what it's all for! Spending and even earning in Bitcoin is slowly gaining traction
The curious – Bitcoin's an exciting new technology, and many want to just understand the future of money and be part of the conversation.
Everyone has their own motivations, but the purpose of this guide is for the third type. I bought a small amount of Bitcoin myself to understand and appreciate this new technology and the opportunities it brings.
Once you actually give it a go by buying and sending some Bitcoin, it becomes a whole lot simpler to understand!
So yes, I believe everyone would benefit by buying a tiny bit of Bitcoin just to educate themselves on what could quickly become part of our future.
I do think Bitcoin is the first cryptocurrency that has the potential to do something like change the world -Peter Thiel, Co-Founder of PayPal
So How Do I Buy Bitcoins?
You can buy Bitcoins directly from other people using online marketplaces, no different than any other product or service. Alternately, you can also use a digital currency exchange or broker such as Coinbase, Bitstamp, Kraken, and Gatehub. Coinbase is one of the biggest U.S. cryptocurrency exchanges. For a beginner, it's best and easiest to use one of these exchanges.
You'll also need a "wallet," a place to store the digital currency. (You'll need one of these no matter which exchange you might use.) The wallet stores your private key, a secret number—a 256-bit string—that gives you access to your Bitcoins. Your private key also allows you the freedom to move across marketplaces. Just because you purchased Bitcoin on a particular exchange doesn't mean you have to stick with it; your private key ensures that you can always access your wallet, whichever marketplace you use.
There different kinds of wallets, including software and hardware wallets. Software wallets are in essence applications, or apps, that you connect with your traditional bank account. There are several to choose from: Coinbase offers a wallet, which is convenient because it is tied directly to its exchange service. There is also Mycelium, a popular mobile wallet, as well as Electrum. Meanwhile hardware wallets store the user's private keys on a secure hardware device that looks a lot like a flash memory stick. Hardware wallets are considered by some people to be more secure because they can disconnect from the Internet. (There have been cases of hackers stealing Bitcoin from Internet-connected computers. Worried? Here's how to avoid bitcoin theft.)
You need just 5 things before buying Bitcoin:
Bitcoin address – A string of numbers unique to you, that allows you to receive Bitcoin (acts like a bank account number). Also known as a 'public key'.
Bitcoin wallet – A secure place to store your Bitcoin (acts like a bank account).
Bitcoin exchange – A website to convert old-school cash into Bitcoin (acts like a bureau de change).
Payment method – A debit or credit card to buy Bitcoin.
Form of identity – You'll need your passport or driver's license to hand.
Picked your wallet and your marketplace of choice? Good. Now that you have all the ingredients ready, here's how to complete the recipe.
Step one. Create your wallet. The easiest way to do this is through a third-party like Coinbase, Exodus, MyCelium, or blockchain.info. Go to the site of the wallet provider you've chosen and sign up. This step requires name, email address, and password.
Step Two. If you've chosen a software wallet, you will be asked to download the app. Download it through the Apple app store or Google Play, depending on whether you have the iOS or Android operating system. Some wallets are designed for desktops; others are better for mobile devices.
Step Three. Visit the exchange you've picked out. Maybe it's Coinbase, Poloniex, CEX.io, Kraken, Bitfinex, BitPanda, or BitStamp. Register with the exchange. Again, you'll need your name, email address, password. Most exchanges require you to connect with your bank account to pay for your Bitcoin purchase. Some exchanges like Coinbase offer an app that acts as an exchange and a wallet. Through the app, you can both buy and trade Bitcoins as well as store them. That's fine, but remember that just because you use the Coinbase exchange doesn't mean you have to use the Coinbase digital wallet. There are many other digital wallets out there. (And exchanges, for that matter.)
Step four: Go to the exchange's "buy" section. Select the amount of bitcoin you want to buy. Given the recent high price of Bitcoin, you can buy less than one Bitcoin on these exchanges. Bitcoin can be divided up to eight decimal points. This means you can buy 0.5 Bitcoins, 0.02 Bitcoins, or even 0.00000001 Bitcoin, if it suits your budget. Depending on the exchange, you can buy Bitcoins with a credit card, bank transfer, or even cash.
Buying Online – open an account at an exchange
Cryptocurrency exchanges will buy and sell bitcoin on your behalf. There are hundreds currently operating, with varying degrees of liquidity and security, and new ones continue to emerge while others end up closing down. As with wallets, it is advisable to do some research before choosing – you may be lucky enough to have several reputable exchanges to choose from, or your access may be limited to one or two, depending on your geographical area.
The largest bitcoin exchange in the world at the moment in terms of US$ volume is Bitfinex, although it is mainly aimed at spot traders. Other high-volume exchanges are Coinbase, Bitstamp and Poloniex, but for small amounts, most reputable exchanges should work well. (Note: at time of writing, the surge of interest in bitcoin trading is placing strain on most retail buy and sell operations, so a degree of patience and caution is recommended.)
With the clampdown on know-your-client (KYC) and anti-money-laundering (AML) regulation, many exchanges now require verified identification for account setup. This will usually include a photo of your official ID, and sometimes also a proof of address.
Most exchanges accept payment via bank transfer or credit card, and some are willing to work with Paypal transfers. And most exchanges charge fees (which generally include the fees for using the bitcoin network).
Each exchange has a different procedure for both setup and transaction, and should give you sufficient detail to be able to execute the purchase. If not, consider changing the service provider.
Once the exchange has received payment, it will purchase the corresponding amount of bitcoin on your behalf, and deposit them in an automatically generated wallet on the exchange. This can take minutes, or sometimes hours due to network bottlenecks. If you wish (recommended), you can then move the funds to your off-exchange wallet.
Buying With Cash – choose a purchase method
Platforms such as LocalBitcoins will help you to find individuals near you who are willing to exchange bitcoin for cash. Also, LibertyX lists retail outlets across the United States at which you can exchange cash for bitcoin. And WallofCoins, Paxful and BitQuick will direct you to a bank branch near you that will allow you to make a cash deposit and receive bitcoin a few hours later.
ATMs are machines that will send bitcoin to your wallet in exchange for cash. They operate in a similar way to bank ATMs – you feed in the bills, hold your wallet's QR code up to a screen, and the corresponding amount of bitcoin are beamed to your account. Coinatmradar can help you to find a bitcoin ATM near you.
(Note: specific businesses mentioned here are not the only options available, and should not be taken as a recommendation.)
TOP 7 Sites to Buy Bitcoins with Credit/Debit Card
Buying bitcoins via credit and debit cards is one of the most popular and convenient ways to purchase Bitcoin.
On most exchanges, if a credit or debit card is used, you will have instant delivery of your Bitcoins. This is perfect for buying the bottom, or catching a big move right before it happens.
The thing is this… This convenience can come at a price, as most cryptocurrency exchanges will charge around 4% for card purchases.
Coinbase
Coinbase is one of the most reputable Bitcoin exchanges in the world. They've been pushing to bring cryptocurrencies to the general public since 2012. Coinbase makes it easy for anyone to get into cryptocurrency. Just make an account, link your preferred payment method, and start purchasing.
Coinbase was recently valued at $8 billion for good reason, its amazingly simple user interface allows anyone from any background easily purchase cryptocurrency like Bitcoin.
Coinbase's works with the financial authorities in the U.S., so you can be sure that any profits made from the appreciation of Bitcoin or purchases of over $20,000 will be reported as tax needed to be paid. Coinbase requires users to submit a picture of their ID to confirm the identity of the account.
Please note that if you are based in the United States, credit card purchases are disabled. You can still purchase with a debit card from Coinbase in the US.
Fees and Limits
Coinbase's credit and debit card purchasing fees are remarkably low compared to the competition at 3.99%.
Coinbase's buying limits are relatively low when using a card to pay compared to its competition. Depending on your accounts verification level, you will be able to purchase different amounts of cryptocurrency daily. The highest tier of verification allows $50,000 to be purchased daily on Coinbase.
Coinbase has no deposit fees for moving currency onto the exchange, the transaction fee occurs upon purchase.
All in all, Coinbase provides a fantastic starting point for beginners by having an easy to navigate interface, and quick sign up process.
Luno
Luno is a popular exchange allowing the buying and trading of Bitcoin paired against fiat currencies and Ethereum. Depending on your country, Luno will be a great option. Luno currently only supports Europe, South Africa, Malaysia, Indonesia, and Nigeria.
In addition to their website, Luno has a mobile application for iOS and Android allowing for the purchase and trading of Bitcoin on the go.
Fees and Limits
Luno's fees are incredibly low. Unlike most exchanges Luno does not charge a fee for credit and debit card deposits. In addition to having zero deposit fees, Luno charges a .25% taker fee, and 0% maker fee upon placing an order. This fee structure makes Luno of the cheapest exchanges out there to purchase Bitcoin on.
CEX.io
CEX.io is another great option to buy bitcoin with credit card or debit card. They have been in business since 2013 and are based in London, UK. The exchange brings strong security, great liquidity, and cross-platform trading via their website, mobile app, and API solutions. According to the website, they have over 2 million active traders. CEX.io also allows margin trading for those that want to, and near 100% uptime.
Their service coverage is decent, allowing 24 US states, and 99% of countries around the world. Here are the states CEX.io does NOT support.
Alabama, Alaska, Arizona, Arkansas, Colorado, Florida, Georgia, Guam, Idaho, Iowa, Kansas, Louisiana, Maryland, Michigan, Mississippi, Nebraska, New Hampshire, New Jersey, North Carolina, North Dakota, Ohio, Oregon, Tennessee, Texas, U.S. Virgin Islands, Vermont, Virginia, Washington.
They are working on increasing the supported US states by obtaining additional Money Transferring Licenses.
Fees and Limits
As far as fees and limits go, CEX.io is competitive with a 3.9% on credit and debit card deposit fee. When selling Bitcoin back to your credit or debit card, there will be a 2.9% fee. This is a special feature to CEX.io as many exchanges do not allow you to sell back onto your credit card.
CEX.io appears to offer feeless purchasing, but this is not the case. They charge a premium upon purchasing. This basically means that the price of Bitcoin or other cryptocurrencies are sold above the going rate.
Bitstamp
Bitstamp's claim to fame is that it's the 'first fully licensed bitcoin exchange' in the world. As the statement suggests, Bitstamp provides more than just debit and credit card purchases. It also allows you to buy with a bank transfer, SEPA transfer, and more. You can even cash out your balance in gold.
That, however, does not deter from the ability to make credit and debit purchases. The page has a simple interface that lends itself to navigation and oversight. Debit card purchases, like with most services, require identity verification. Once the account has been verified, just link your debit card and make purchases as desired.
Fees and Limits
Credit card purchases using Bitstamp also follow a staggered fee system.
For up to 500$/500 Euro purchases the fee is 8%.
For up to 1000$/1000 Euro purchases the fee is 7%.
For up to 2500$/2500 Euro purchases the fee is 6%.
For up to 5000$/5000 Euro purchases the fee is 5%.
All in all, Bitstamp offers very low prices compared to most other services, considering other services can charge 5%+ for credit card processing alone.
LocalBitcoins
LocalBitcoins operates a bit differently than other exchanges. The prices vary as anyone posts what they are willing to sell their Bitcoins for. Each vendor on the page has a review history which gives you a good idea of how trustworthy the transaction will be.
Also, the page marks the average response time taken for a vendor to respond to your order. All in all, it's a great peer-to-peer alternative to Bitcoin purchases than the other services listed above.
Fees and Limits
Localbitcoins charges a 1% fee for using their service and depending on the price a seller is offering you could technically be paying a higher one. Localbitcoins is a more private way of purchasing Bitcoin, so some users don't mind paying a few % in fees in exchange.
Coinmama
Coinmama is also a great option. The first thing you might notice upon logging in to Coinmama is the user interface of its website. Coinmama offers different packages which give a certain amount of cryptocurrency. If you plan to get a different amount than their packages, you can specify how much Bitcoin you want to buy.
Another small difference about Coinmama is that they do not provide you with a wallet for storing your purchased cryptocurrency. Instead, they ask you for a wallet to send the purchased currency too. This shouldn't be an issue at all, as long as you have your own wallet. To learn more about Bitcoin wallets, check our guide,
Coinmama has a great reputation in the crypto community as they have reliable customer support and have been around for a while. They are based in Israel and support several countries and almost all US States.
Fees and Limits
Coinmama charges a fee of around 5% for credit and debit purchases. Although its fees are higher than Coinbase, they have instant delivery and higher purchasing limits.
Coinmama has high purchasing limits at a max of $5,000 daily, and $20,000 monthly. As far as minimum purchases go, Coinmama has a minimum of $60 USD.
Bitpanda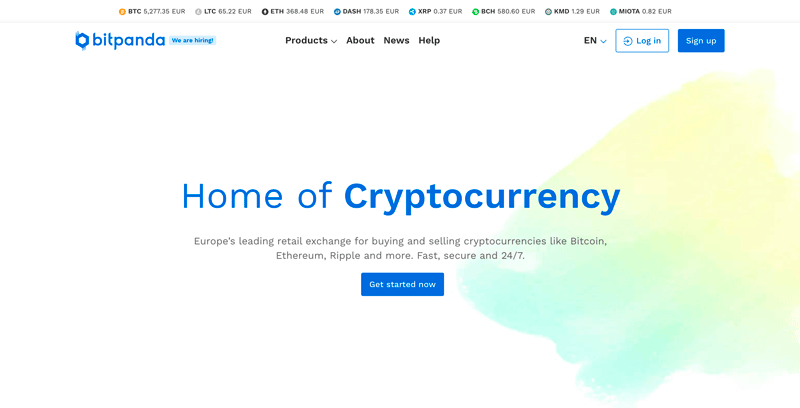 Bitpanda separates itself from other exchanges by offering many different payment methods and cryptocurrencies. They only sell cryptocurrency to customers in Europe but have extremely competitive rates and fees.
Bitpanda's user interface is pretty clean, making it easy for beginners to purchase currency on the site. Outside of credit cards, Bitpanda offers Sofort transfers, Neteller, Skrill, EPS, Giropay, SEPA transfers and OBT.
Bitpanda requires an ID upon sign up, making it not a great choice for those concerned with privacy.
Fees and Limits
Bitpanda charges 1.49% fees on purchases and 1.29% fees on sells. External payment providers will then charge between 1.5%-3.6% fees depending on the payment method.
Depending on your verification level, users will be able to purchase different amounts of cryptocurrency. Overall Bitpanda is a fantastic choice if you are based in Europe. Below is a detailed table displaying their limits for different services.
5 steps to buy Bitcoin on the example of Coinbase
There are a few steps you need to take to make your first purchase, but if you're ready and willing to follow along, we'll teach you how to buy Bitcoin in no time.
Although each step does take some consideration, these are the main points you need to think over when it comes to making your first Bitcoin purchase:
Install an offline Bitcoin wallet and setup a strong password to protect it.
Set up an account on Coinbase (and its trading platform, Coinbase Pro, if you want additional control).
Choose your preferred payment method.
Buy some Bitcoin!
Step 1: Find A Good Bitcoin Wallet
Digital "wallets" are used to store Bitcoin until you are ready to spend them or exchange them for another currency. Wallets range in terms of features, platforms they can be used on, and security, so it's important to choose one that works for you.
To get you started, your best bet is to use the wallet that's automatically provided to you on our recommended exchange, Coinbase. However, it's also a good idea to set up a wallet that's not linked to an exchange as that way if the exchange ever goes down or becomes rammed with traffic, you still have ready access to your Bitcoin.
Here are our recommended options:
Exodus – An all-in-one offline application with support for a number of cryptocurrencies, including Bitcoin, Exodus is free to use, has built in shape-shift trading and some simple graphing tools to help you visualise your cryptocurrency portfolio.
Electrum – Securing Bitcoin payments since 2011, Electrum is one of the most popular Bitcoin wallets. Electrum is fast, secure and easy to use. It suits the needs of a wide spectrum of users.
Mycelium is a popular mobile wallet known for being compatible with more advanced tech, like Trezor hardware wallets (for maximum security) and Tor.
For a look at a few other of our favorite wallets, here's a more in-depth guide to the best Bitcoin wallets.
Note: Although an online wallet is fine for your first Bitcoin purchase, if you find yourself with a lot of valuable cryptocurrency because of trading or an upswing in value, make sure to store it in an offline "cold storage" wallet for maximum protection.
Step 2: Choose The Right Bitcoin Trader
The best place to make your first Bitcoin purchase is on an exchange. There are a whole lot of exchanges out there, with varying performance. Some are less trustworthy than others and some can be quite limited, so it's important to pick the right exchange to start with. We recommend using Coinbase, though there's no harm in checking out the competition using a Bitcoin exchange comparison site.
Signing up for a Coinbase account is easy, though you will need to provide some form of identification. That may involve sending a copy of your photo ID and potentially also sending a live image of your face using a webcam. These rules are important to follow as they allow the site(s) to comply with 'know-your-customer' regulations.
Although Coinbase alone will allow you to buy and sell Bitcoin, it's also worth signing up to its linked exchange platform, Coinbase Pro, which will give you greater control over your purchases.
If you would rather take a more direct route in buying Bitcoin, you can opt to use a peer to peer service such as LocalBitcoin or BitQuick. They offer a wider array of payment options and let you purchase Bitcoin directly from a seller without the exchange middle man. That said, make sure to be safe if you plan to do a trade for cash in person.
Step 3: Select Your Payment Method
Exchanges accept a variety of payment options based on what they are willing to use. This is sort of a sore point for many exchanges, since some payment methods have been used to scam sellers for a quick buck in the past. Coinbase allows both bank account and credit or debit card transfers for payments and one payment solution must be linked to your account before you can make the trade. Paypal is not supported by Coinbase and with good reason.
Note: Bitcoin ATMs allow you to exchange Bitcoin in compatible wallets for cash. These ATMs are available in a limited number of cities, but do provide an alternative to withdrawing money using an exchange. Again, most exchanges and online wallets will not deal directly with cash.
Step 4: Buy Some Bitcoin And Store Them In Your Wallet
Exchanges provide you with information on how many (or how much of a) Bitcoin you can buy for specific sums of money. However, due to its volatile nature, Bitcoin prices can vary dramatically by exchange and from moment to moment — especially lately.  That means that even if you have a lot of money to burn, you'll probably be buying a fraction of a Bitcoin. There's nothing wrong with that and for most people is the route they'll go down as few but the wealthy can afford more than that.
To make your first trade, input the amount of Bitcoin you want to buy in the provided field and click the buy button. On Coinbase or or Coinbase Pro, this will be a basic "market" buy order, which will purchase Bitcoin at the best market rate. Alternatively, you can place a "limit" order, which lets you set a price you're willing to pay for a certain amount and a trade will only happen if that amount shows up at that price.
Once you're made your purchase, your new Bitcoin will be stored in your Coinbase wallet. You should then seek out the option to transfer these funds to the address of the Bitcoin wallet you have created that's off the exchange. You will have to pay a small fee to do so, but that is part and parcel of Bitcoin transfers. Fortunately, the fees for such trades are far from their peak.
Important note: Bitcoin transfers can be a bit sporadic. Unlike other currency trades, when you buy Bitcoin funds. the transaction needs to be recorded in the blockchain and affirmed. This can take time, especially during busy trading hours. It's not uncommon for a trade to take an hour or two to complete, so you may not want to immediately leap over to your account and start moving funds around.
Step 5: Get Ready To Use It
Whether you plan to ultimately sell your Bitcoin (hopefully at a profit) or use it to purchase something, be ready to do so at a moment's notice. The way Bitcoin value fluctuates it's important to have your end-game planned out early on.
Be prepared by setting up a seller account now, or figure out how to buy what you want with it before you actually plan to. That way when the time comes, you'll not have a panicked rush while everyone else is trying to do the same.
Frequently asked questions when buying and exchanging bitcoin
Can I play the bitcoin market without buying bitcoin?
You can do the bitcoin thing without owning it outright. The eToro "social trading" network doesn't sell bitcoin, but lets you follow traders and wager — or in the parlance of the app, "copy" — their performance and profit (or lose) from the price swings. And it's only a matter of time before the big institutional investors figure out a way to offer bitcoin to the masses through ETFs and index funds.
Can I buy bitcoin anonymously?
Bitcoin isn't exactly anonymous. Every transaction is publicly visible once it's inscribed and published in the blockchain. That said, those transactions are associated with a bitcoin address — not a name or account number — so there areways to trade while keeping your identity obscured. (This is why Silk Road, the dark web marketplace for drugs and other illicit goods and services, was an early and ardent adopter of bitcoin.)
Do I need to verify my identity to buy bitcoin?
If privacy is important to you, buying bitcoin with cash is your best bet. There are many sites that connect buyers and sellers — including Paxful and LocalBitcoins — that will enable you to trade cash or even a gift card, in person or online, for bitcoin.
If you choose to go a more mainstream route, after all, the process can be rather invasive. The major exchanges require a good deal of identification and sensitive financial information to establish and fund an account. (Exchanges that are registered with regulators are required to verify your identify before doing business with you in an effort to protect against fraud and money laundering.) And there is risk whenever you provide personal and financial information to any entity, especially online.
Can I use a credit card to buy bitcoin?
You can use virtually any funding source to buy bitcoin; other cryptocurrencies may offer less flexibility and fewer options. Most exchanges accept credit cards and debit cards, and those are generally the fastest ways to buy bitcoin. Other funding options include a bank account or wire transfer, which may require a longer time — somewhere between a few minutes and a few days — to clear. PayPal, cash and other cryptocurrencies are also viable options.
How much (or how little) bitcoin can I buy at once?
Even if you're sitting on piles of money, itching to buy bitcoin, there are limits. Some platforms and exchanges put a weekly or daily cap on how much bitcoin you can buy depending on which payment method you use, how long your account has been active and your purchase history. And even if you verify your identity, you may still be limited to buying $750 of bitcoin per week with a credit card or $10,000 to $15,000 per week if you use a bank account.
Of course, you can purchase smaller amounts, too. Coinbase will let you buy $1.99 worth of bitcoin — but will take 99 cents off the top in fees.
Speaking of which, what type of fees can I expect to pay?
Though there are no inherent transaction costs with bitcoin, buying and selling it usually involves fees. Coinbase's fees fall into two main categories — conversion fees and exchange fees — which can add up to 7.99 percent of a transaction in the US, depending on the nature of the transaction and how you fund your account (e.g. credit card, bank transfer or wire transfer). You may also be charged a fee to transfer money in and out of your bank account. (Check out Coinbase's explanation of its fees here.)
To put this in context, when I bought $100 of bitcoin in early September, using cash transferred from a US bank account to fund the transaction, I paid a total of $2.99 in fees. (I paid the same amount in fees when I sold $100 of bitcoin in early December.) 
Great. I bought some bitcoin. Now what?
Bitcoin is still a niche currency, though an increasing number of companies, including Microsoft and Subway, now accept it. (In 2015, payment processor BitPay claimed that more than 100,000 merchants around the world accepted bitcoin.) To put that in perspective, Apple Pay is accepted in more than 2 million stores and "tens of millions" of stores in more than 200 countries accept Visa. (Note that Coinbase offers a debit card that let you buy things with Coinbase anywhere Visa is accepted.)
You can sell bitcoin on all of the same exchanges and services that you can buy it from.  And though the sale transaction may take just a few seconds, it will likely take considerably more time to actually withdraw the proceeds of that sale from your bitcoin wallet into your bank account. When I sold some bitcoin on Coinbase in early December and then immediately initiated a deposit into my bank account, it took a full week for the money to land there.
There are other cryptocurrencies that pride themselves on faster transaction and deposit times. We'll take a look at some of the other major currencies, and how they stack up, later in this series.
How do I keep my bitcoin safe?
If you're trading lower amounts, it's probably OK to use the wallet provided by your exchange or another software wallet (and there are plenty to choose from). If you're going big, you almost certainly want a hardware wallet, of which there are a number of complicated, encryption-related options. 
We'll take a look at the pros and cons of each of these options in a future article. In the meantime, bitcoin.org provides some good introductory information.
What's the best Bitcoin wallet?
Websites like Coinbase give you an online Bitcoin wallet, which is easy to use and fine to get you started.
However they still act as a mediator. So if you're serious about buying and using Bitcoin, you'll want to get your own wallet that you control and sits on an offline USB stick.
I opted for Ledger Nano S and Trezor.
Once installed, I simply sent Bitcoin from my Coinbase wallet to my new Ledger wallet.
Disclaimer: 65% of retail investor accounts lose money when trading CFDs with this provider.You should consider whether you can afford to take the high risk of losing your money.
Cryptocurrencies can fluctuate widely in prices and are not appropriate for all investors. Trading cryptocurrencies is not supervised by any EU regulatory framework. This is not investment advice.
Is Bitcoin a scam?
Bitcoin is not a scam, it is a legitimate new financial technology already being used by millions of people around the world.
That's not to say there aren't scams associated with Bitcoin. Many people let greed get the better of their judgement, don't do their research and see buying Bitcoin as a get rich quick scheme.
Scammers may advertise fake Bitcoin wallets or exchanges on social media to cash in on the hype and confusion. Always do your research (as I have for this tutorial) and never part with money or personal details unless you are 100% confident.
How is Bitcoin different to PayPal?
Whilst PayPal can be seen as a digital transfer of money, it's not playing the role of a currency.
They also still act like a bank by mediating payments, with all the transactions centralised and controlled by one company.
Lastly PayPal transactions aren't encrypted to the same level as Bitcoin, so overall PayPal is more vulnerable to being targeted by hackers.
---
Do let me know your thoughts in the comments below!
And if you find this post useful, do share it with your friends on Facebook & Twitter!