Self-proclaimed bitcoin inventor Craig Wright reportedly cried in court during cross-examination in the $10 billion crypto lawsuit filed against him by the estate of deceased computer genius Dave Kleiman.
On Friday morning, Wright was captured on a Twitter video as he headed into the Paul G. Rogers Federal Building in West Palm Beach, Fla.
Estate of Dave Kleiman Wants at Least $5 Billion from Craig Wright
Wright wore a gray suit and said nothing to the videographer who filmed him. He was accompanied by his lawyer and a burly man who appeared to be his bodyguard.
Wright was deposed this morning by the lawyers for Ira Kleiman, the brother of the late Dave Kleiman. Kleiman was a colleague of Wright who had worked on bitcoin with him from 2008 until he died in 2013.
RelatedNews
'Bitcoin Inventor' Craig Wright Basks in Satoshi Glow as Court Date Looms

Australia's Central Bank: It's 'Difficult' to Imagine Mass Adoption of Bitcoin

Wright's morning deposition was closed to the public (as they are usually are).  However, the courtroom was re-opened to the public for the afternoon evidentiary hearing, which began shortly after the deposition.
Witnesses: Wright Cried Because Bitcoin Is Being Used for 'Bad Things'
According to several people on Twitter, Wright got very emotional in court during his cross-examination.
Twitter user Katie Ananina says Wright cried while lamenting that "his" creation — bitcoin — is being used for criminal activities, such as funding child pornography. Ananina tweeted: "Some highlights:
Are you Satoshi? — Yes
Do you recognize this White Paper? — I wrote it
Why did you leave BTC and disassociate with Satoshi? — My invention was used for bad things. *crying* They created Silk Road and Hydra. It was used to fund child pornography."
Another Twitter account also reported that he saw Wright crying in court.
"Open session now. Craig is on the stand talking about Silk Road and Hydra, and CRYING. Yes, he is CRYING."
Kleiman Estate: Craig Wright Could Be Satoshi Nakamoto
As CCN reported, the estate of Dave Kleiman filed a $10 billion federal lawsuit against Craig Wright in February 2018. In the complaint, the estate accused Wright of trying to steal the intellectual property and bitcoin stash that he and Kleiman had mined together before Kleiman's death.
Wright and Kleiman started collaborating on bitcoin back in 2008 — before anyone had ever heard of it. Together, they mined more than 1.1 million bitcoin, according to the Kleiman lawsuit.
There are rumors that Dave Kleiman was Satoshi Nakamoto and that Wright is trying to declare sole "ownership" of that title because Dave is not around to dispute his claims.
However, in their lawsuit, Kleiman's estate says it's possible that either Kleiman or Wright is Satoshi Nakamoto.
"It is unclear whether Craig, Dave, and/or both created Bitcoin. For reasons not yet completely clear, they chose to keep their involvement in Bitcoin hidden from most of their family and friends. It is undeniable, however, that Craig and Dave were involved in Bitcoin from its inception and that they both accumulated a vast wealth of bitcoins from 2009 through 2013."
Kleiman Estate: Wright Faked Signatures
The Kleiman estate is less concerned about who is Satoshi Nakamoto. What they want is half the $10 billion bitcoin stash that Dave and Craig reportedly mined together.
According to the Kleiman lawsuit, Wright used bogus signatures on legal documents to bilk Kleiman's estate out of their rightful property.
The plaintiffs attached an Exhibit (see below) that compared Kleiman's signature and the ones found on several contracts that Wright used to claim ownership to the intellectual property and bitcoin referenced in their lawsuit.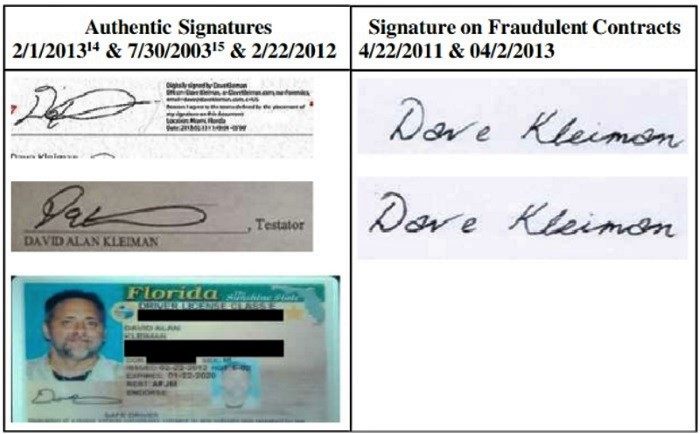 Kleiman's estate noted that the signatures look "substantially different." Moreover, they claim that the electronic signatures on relevant contracts look like a computer-generated font.
Craig Wright has denied all the allegations in the Kleiman lawsuit. He insists that he is bitcoin inventor Satoshi Nakamoto and vowed to sue anyone who defames him by claiming otherwise.